Muncy Industries | Forged End Links
Muncy™ End Links for Wire Rope
Muncy™ End Links are manufactured in the USA using a quality forging for a blend of strength and ductility.
Muncy™ Quality USA Forgings
Everything produced by Muncy™ Industries is Made in USA. "USA" is Forged directly into our End Links, along with our name as the manufacturer, size, and heat number for traceability.
Federal Specification
Muncy™ End Links are produced in accordance with the dimensional, performance, and testing requirements of RR-C-271F (Type XV). Parts are stocked painted Muncy Blue, and are available Hot Dip Galvanized upon request.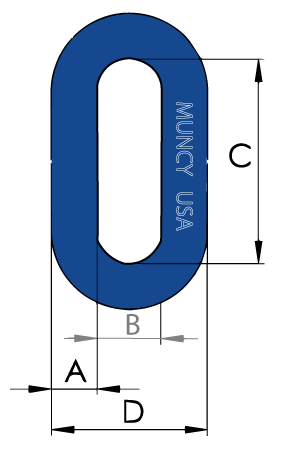 | Part Number | Size | W.L.L. | Wt. Each | A | B | C | D |
| --- | --- | --- | --- | --- | --- | --- | --- |
| EL-20 | 5/8 | 9,300 | 0.90 | 5/8 | 1 | 3-1/4 | 2-5/16 |
| EL-24 | 3/4 | 12,000 | 1.36 | 3/4 | 1-1/8 | 3-1/2 | 2-5/8 |
| EL-28 | 7/8 | 14,000 | 2.65 | 7/8 | 2 | 5-1/8 | 3-3/4 |
| EL-32 | 1 | 15,200 | 3.90 | 1 | 2-1/4 | 5-3/4 | 4-1/4 |
Other Materials Available