Muncy™ Casing Thimbles
Muncy Casing Thimbles are designed for both single and braided slings, six and eight part braids. Our high strength castings are engineered with a better design, with ears designed for bending. These thimbles are often used in conjunction with a Muncy slip through thimble or a Newco sliding choker hook. The finished product is used in mills, construction and logging, to name a few uses.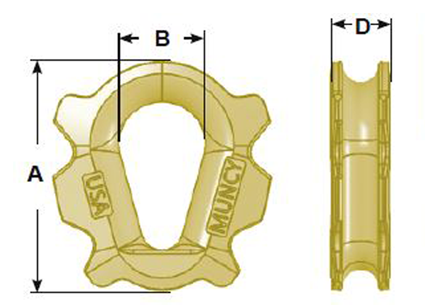 -Specially designed for braided slings. -Ears can be peened over to retain wire rope. -High strength casting -Designed to resist elongation from loading. -Can come cut to bend around a master link.
Stock No.
Six Part Rope Size
Eight Part Rope Size
Dimensions
A
B
C
D
CT-4
1/8
1/8
3-1/4
1-1/4
1/2
7/8
CT-8
1/4
3/16
3-7/8
1-1/2
5/8
1
CT-10
5/16
1/4
4-7/16
1-3/4
13/16
1-5/16
CT-12
3/8
5/16
5
2
15/16
1-7/16
CT-14
7/16
3/8
5-3/4
2-1/4
1-1/8
1-11/16
CT-16
1/2
7/16
6-3/8
2-3/4
1-3/8
1-15/16
Casing Thimbles are Used With: