Muncy™ Slip-Through Thimbles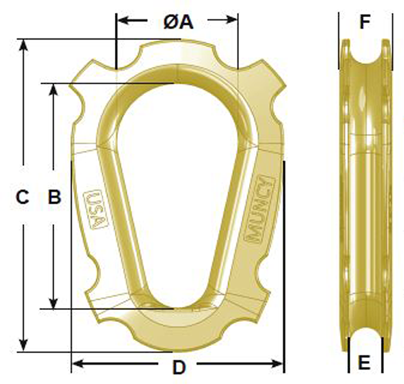 Stock No.
Single Part Rope Size
Eight Part Rope Size
Six Part Rope Size
Dimensions
Weight Lbs. Each
A
B
C
D
E
F
ST-10
5/16" - 3/8"
3/32" - 1/8"
3/32" - 1/8"
2-1/8
4-1/8
5-1/4
3-5/8
7/16
13/16
1.1
ST-16
1/2" - 9/16"
3/16"
3/16"
2-3/8
4-3/8
6
4
5/8
1.00
1.70
ST-20
5/8" - 3/4"
1/4"
1/4" - 5/16"
3-3/8
6-5/8
8-5/8
5-13/16
13/16
1-5/16
3.6
ST-24
7/8" - 1"
5/16"
3/8"
3-3/4
7-1/8
9-3/8
6
1-1/8
1-5/8
5.30
ST-36
1-1/8" - 1-1/4"
3/8"
7/16"
4-3/8
8-3/8
10-15/16
7
1-3/8
1-7/8
7.4
ST-44
1-3/8" - 1-1/2"
7/16" - 1/2"
1/2"
5
9-1/2
12-3/4
8-1/4
1-5/8
2-1/4
12.7
ST-52
1-5/8" - 1-3/4"
9/16"
5/8"
6-3/4
11
14-5/8
10-3/8
1-13/16
2-9/16
16.9
ST-60
1-7/8" - 2"
5/8"
3/4"
8
14-1/2
19-1/4
12-3/4
2-1/8
3-1/4
51.7
ST-68
2-1/8" - 2-1/4"
3/4"
7/8" - 1"
8
15-1/2
20-1/4
12-3/4
2-1/2
3-3/4
62.2
ST-80
2-1/2" - 3"
7/8" - 1"
1-1/8"
9
18-1/2
24-1/2
15
3-3/16
4-11/16
116.8
Muncy Slip Through Thru Thimbles are designed to protect the wire rope under load while allowing an eye on the end of sling to pass through the eye for choking application. This high strength casting also features tabs that are bent over the rope for additional protection of the rope. Some customers bend the tabs multiple times when they reuse the hardware. Our thimbles are often used with Muncy Casing Thimble or a Sliding Choker Hook in construction and in yards where a choking application is necessary.
-Ears can be peened over to retain wire rope.
-High strength casting.
-Designed to resist elongation from loading.
-Can come cut to bend around a master link.
Slip-Through Thimbles are Used With: