Muncy™ Flemish Eye Sleeve Dies
Muncy Wire Rope Swaging Dies
Muncy has been making swaging dies for many different kinds and sizes of swagers. We manufacture with special steel that we heat treat for a longer swager die life. We manufacture both open channel and pocket dies. Dies are used to swage threaded studs, button stops and ferrules, logging choker ferrules, Muncy Twist-On buttons, grommet sleeves, Flemish eye sleeves for molly Hogan splices, ball shanks, clevis, fork and pin eye terminals, aluminum and copper sleeves and button stops, one piece and two piece sleeves, drumline buttons, to name a few. Our dies can swage carbon steel, aluminum and copper fittings.
Muncy Swaging Dies Used in United States, Canada
Most of Muncy's dies are manufactured within the wire rope industry. However, there are other applications where Muncy dies are used, still used to compress a fitting onto a cable or wire
Muncy Dies are Made In USA
Muncy uses steel made in the United States and monitors certain key chemical and physical properties. We stand behind our product and work for a fast turnaround, with blocks of steel in stock and in-house heat-treat capabilities.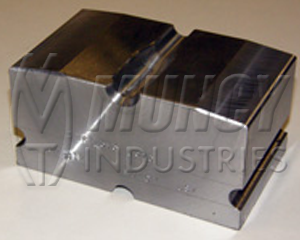 Wire Rope Size
ESCO Swagers
National Swagers
Mark
75/87
2" x 3-1/2"
Mark
100/150
2-1/2" x 5"
Mark
200/250
4" x 7"
5" x 7"
6" x 12"
1/4" Tapered Die
ESFE0.250
EMFE0.250
ELFE0.250
NSFE0.250
5/16"-3/8" Tapered Die
ESFE0.313-0.375
EMFE0.313-0.375
ELFE0.313-0.375
NSFE0.313-0.375
7/16"-1/2" Tapered Die
ESFE0.438-0.500
EMFE0.438-0.500
ELFE0.438-0.500
NSFE0.438-0.500
9/16"-5/8" Tapered Die
ESFE0.563-0.625
EMFE0.563-0.625
ELFE0.563-0.625
NSFE0.563-0.625
3/4" Tapered Die
ESFE0.750
EMFE0.750
ELFE0.750
NSFE0.750
7/8" 1st stage
EMSC1.750
ELSC1.750
NSSC1.750
7/8" Tapered Die
EMFE0.875
ELFE0.875
NSFE0.875
7/8" Combo
NSCFE0.875
1" 1st stage
EMSC2.000
ELSC2.000
NSSC2.000
1" Tapered Die
EMFE1.000
EL2FE1.000
NSFE1.000
1" Combo
NSCFE1.000
1"-1/8" 1st stage
EMSC2.250
ELSC2.250
NSSC2.250
1"-1/8" Tapered Die
EMFE1.125
ELFE1.125
NSFE1.125
1"-1/8" Combo
NSCFE1.125
1"-1/4" 1st stage
EMSC2.500
SLSC2.500
NSSC2.500
1"-1/4" Tapered Die
EMFE1.250
ELFE1.250
NSFE1.250
1"-1/4" Combo
NSCFE1.250
1"-3/8" 1st stage
EMSC2.750
ELSC2.750
NSSC2.750
1"-3/8" Tapered Die
EMFE1.375
ELFE1.375
NSFE1.375
1"-1/2" 1st stage
EMSC3.000
ELSC3.000
NSSC3.000
1"-1/2" Tapered Die
EMFE1.500
ELFE1.500
NSFE1.500
1"-3/4" 1st Stage
ELFE1.750-1
NSFE1.750-1
1"-3/4" 2nd Stage
ELFE1.750-2
NSFE1.750-2
2" 1st Stage
ELFE2.000-1
NSFE2.000-1
2" 2nd Stage
ELFE2.000-2
NSFE2.000-2
2"-1/4" 1st Stage
ELFE2.250-1
NSFE2.250-1
2"-1/4" 2nd Stage
ELFE2.250-2
NSFE2.250-2
2"-1/2" 1st Stage
ELFE2.500-1
NSFE2.500-1
NLFE2.500-1
2"-1/2" 2nd Stage
ELFE2.500-2
NSFE2.500-2
NLFE2.500-2
2"-3/4" 1st Stage
NLFE2.750-1
2"-3/4" 2nd Stage
NLFE2.750-2
3" 1st Stage
NLFE3.000-1
3" 2nd Stage
NLFE3.000-2
3"-1/2" 1st Stage
NLFE3.500-1
3"-1/2" 2nd Stage
NLFE3.500-2
4" 1st Stage
NLFE4.000-1
4" 2nd Stage
NLFE4.000-2