Muncy™ Stainless Steel Swage Buttons
Muncy Stainless Steel Swage Buttons
Muncy manufactures its stainless steel buttons as standards for both its NB and SB Button dimensions. Stocked in 304 Stainless, 316 and other grades and special dimensions are available on an made-to-order basis. Please call us for availability.
Muncy Stainless Steel Button Swageability
Muncy's stainless button stops have special chemical and physical properties for swaging. Without our special steel and processes, stainless steel "off the shelf" is proned to inconsistent properties and higher potential for cracking when swaged onto the wire rope.
Stainless Muncy Machine and Tool Fittings are machined from stainless steel specially selected for swaging.
Stocked in 304 Stainless Steel
Available in 316 Stainless Steel upon request.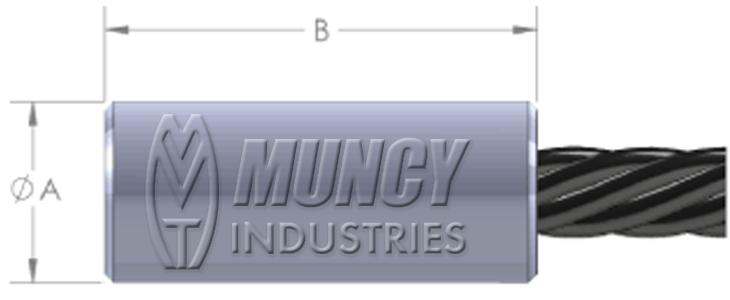 Stainless Steel SB Buttons
Stock No.
Rope Dia.
After Swage Dimension
Weight lbs. Each
A
B
Min
Nominal
Max
Approx.
SB-8-SS
1/4
0.615
5/8
0.625
0.635
1.125
0.09
SB-10-SS
5/16
0.740
3/4
0.750
0.770
1.500
0.17
SB-12-SS
3/8
0.855
7/8
0.875
0.895
1.750
0.27
SB-16-SS
1/2
1.105
1-1/8
1.125
1.160
2.375
0.59
SB-18-SS
9/16
1.230
1-1/4
1.250
1.290
2.625
0.80
SB-24-SS
3/4
1.480
1-1/2
1.500
1.550
3.500
1.46
SB-28-SS
7/8
1.730
1-3/4
1.750
1.750
4.125
2.32
SB-32-SS
1
1.980
2
2.000
2.000
4.750
3.53
SB-36-SS
1-1/8
2.220
2-1/4
2.250
2.300
5.250
5.00
SB-40-SS
1-1/4
2.470
2-1/2
2.500
2.560
5.875
6.79
SB-44-SS
1-3/8
2.720
2-3/4
2.750
2.810
6.500
9.24
SB-48-SS
1-1/2
2.970
3
3.000
3.060
7.125
11.97
Stainless Steel NB Buttons
Stock No.
Rope Dia.
After Swage Dimension
Weight lbs. Each
A
B
Min
Nominal
Max
Approx.
NB-4-SS
1/8
0.365
3/8
0.375
0.400
0.625
0.02
NB-5-SS
5/32
0.428
7/16
0.438
0.448
0.750
0.03
NB-6-SS
3/16
0.490
1/2
0.500
0.520
0.875
0.04
NB-7-SS
7/32
0.553
9/16
0.563
0.580
1.000
0.06
NB-8-SS
1/4
0.553
9/16
0.563
0.580
1.188
0.07
NB-10-SS
5/16
0.740
3/4
0.750
0.770
1.375
0.15
NB-12-SS
3/8
0.740
3/4
0.750
0.770
1.750
0.18
NB-14-SS
7/16
0.980
1
1.000
1.030
2.000
0.39
NB-16-SS
1/2
1.105
1-1/8
1.125
1.160
2.188
0.59
NB-18-SS
9/16
1.230
1-1/4
1.250
1.290
2.438
0.74
NB-20-SS
5/8
1.355
1-3/8
1.375
1.420
2.875
1.06
NB-24-SS
3/4
1.480
1-1/2
1.500
1.550
3.250
1.35
NB-28-SS
7/8
1.730
1-3/4
1.750
1.800
3.875
2.18
NB-32-SS
1
1.980
2
2.000
2.050
4.375
3.23
NB-36-SS
1-1/8
2.220
2-1/4
2.250
2.300
4.813
4.60
NB-40-SS
1-1/4
2.470
2-1/2
2.500
2.560
5.438
6.27
NB-44-SS
1-3/8
2.720
2-3/4
2.750
2.810
6.000
8.46
NB-48-SS
1-1/2
2.970
3
3.000
3.060
6.500
10.98