Muncy™ Twist-On Buttons
Muncy Twist-On Buttons are made of special carbon steel with properties conducive for swaging. The wire rope imprint in the inside diameter of the button enhances the assembly efficiency. When putting the button onto the cable, the ferrule may twist onto the cable with the lays of the wire rope, almost like you are screwing it onto the rope.
Muncy Twist-On™ Buttons are specifically designed for applications that require a smaller than standard swaged button, while maintaining a rating for direct loads. Highly efficient "rifling" on the inside of the rope hole of the precision casting, along with specific metallurgy and heat treatment, yields a product that can achieve both.
High Quality Casting
Wire Rope Imprint to Enhance Assembly Efficiency
Short Button, Higher Strength
Designed to Break most 6 Strand Wire Ropes
Made from Domestic Steel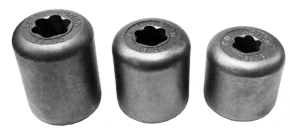 Stock No.
Rope Dia.
After Swage Dimensions
Weight lbs. Each
A
B
Min
Nominal
Max
Approx.
TB-24
3/4
1.970
2.000
2.050
2.65
2.1
TB-28
7/8
1.970
2.000
2.050
3.11
2.4
TB-32
1
1.970
2.000
2.050
3.60
2.5
CAUTION
Muncy™ Twist-On™ Buttons are designed for 6 strand right lay wire ropes ONLY. Testing is recommended to prove the adequacy of the assembly.