Muncy Industries | Wedge Button Stops
Muncy's Rolog Wedge "quickway ferrules"
Muncy's Rolog wedge buttons, commonly known as "quickway ferrules" are a great way to terminate wire rope in the field, for winch lines, repairs, all without swaging. The button ferrules are a time tested design, machined from quality steel with a better grain structure than cast buttons. The machined button ferrules make for a great looking part with full material traceability, made in USA.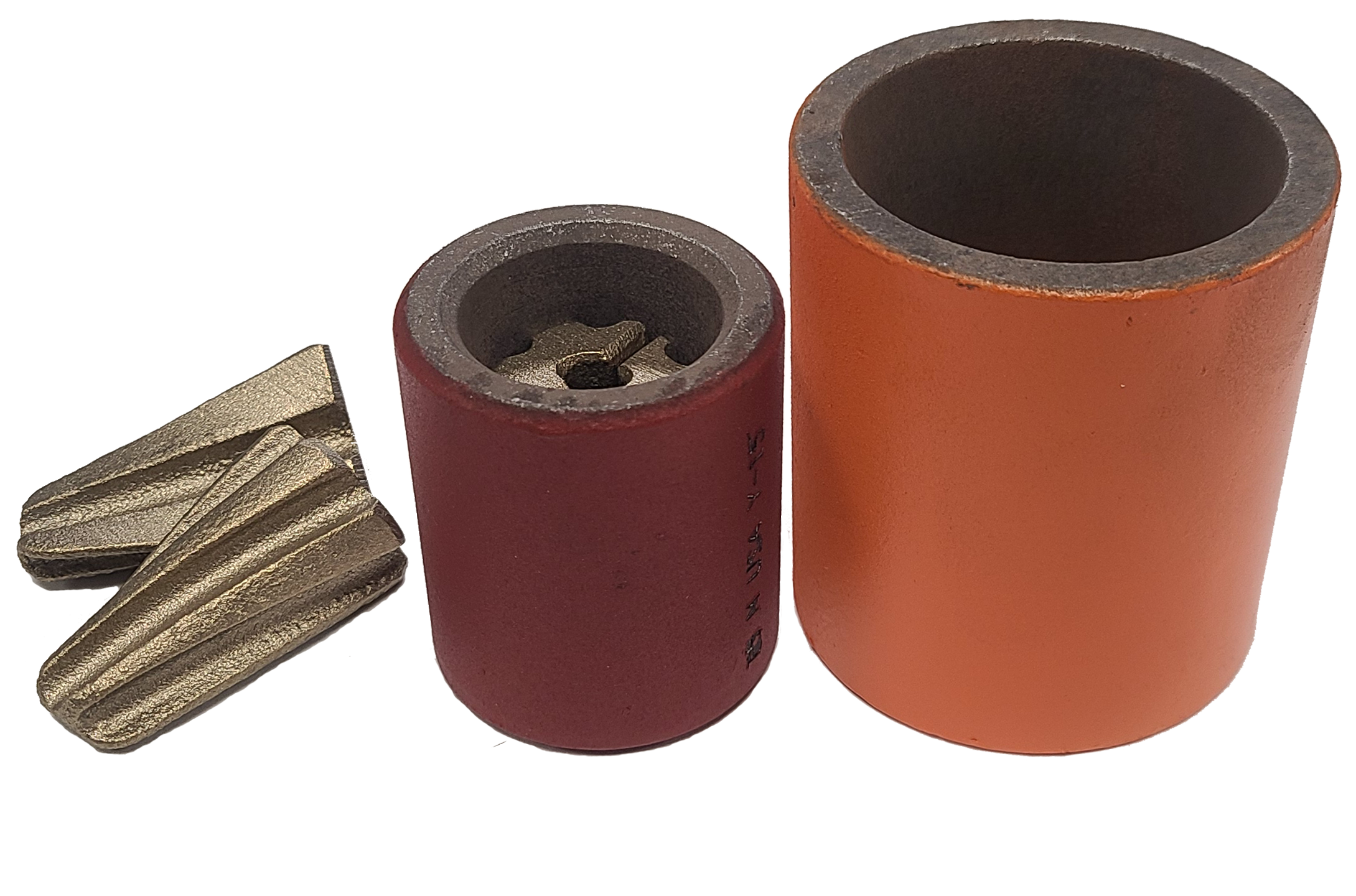 Rolog Poured Buttons
Buttons can be used without the wedges by speltering the rope into the button ferrule using zinc or resin, following the resin manufacturer's guidelines. This is another way to terminate the cable in the field. Buttons are color-coded for identifcation purposes: silver, blue, pink, maroon, grey, white, black, green, red, cream, yellow, orange.
Rolog Wedge Inserts
Muncy's Rolog wedge inserts are quality bronze castings made in USA. The material used allows for a better efficiency than aluminum wedges and wedges made using other materials and designs that either lack the optimal tensile strength or proper ductility for this application. Rolog wedge inserts are designed for Rolog buttons only, as they may not fit properly in other button ferrules.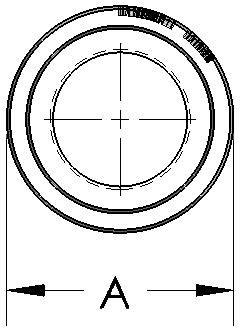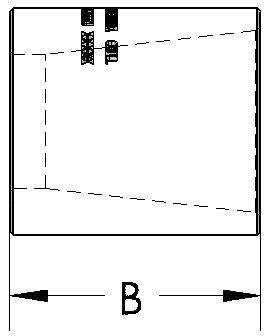 Stock No.
Button Color
Rope Size
Dimensions
Weight
Button & Wedge Kit
Button Only
Wedge Set Only
A
B
Kit
Button
Wedge Set
M4-KIT
M4
W-4
Silver
1/2"
1-1/8"
1-1/4"
0.3
0.2
0.1
D4-KIT
D4
W-4
Cream
1/2"
1-1/2"
1-5/8"
0.7
0.6
0.1
D5-KIT
D5
W-5
Pink
5/8"
1-1/2"
1-5/8"
0.6
0.5
0.2
B5-KIT
B5
W-5
Maroon
5/8"
1-5/8"
2"
1.0
0.8
0.2
B6-KIT
B6
W-6
Grey
3/4"
1-5/8"
2"
2.1
1.9
0.2
L6-KIT
L6
W-6
White
3/4"
2-1/8"
2-5/8"
1.6
1.4
0.2
L7-KIT
L7
W-6
Black
7/8"
2-1/8"
2-5/8"
1.8
1.4
0.4
L8-KIT
L8
W-8
Green
1"
2-1/8"
2-5/8"
1.9
1.4
0.5
J7-KIT
J7
W-7
Red
7/8"
2-3/8"
2-5/8"
2.6
2.2
0.4
J8-KIT
J8
W-8
Blue
1"
2-3/8"
2-5/8"
2.5
2.0
0.5
J9-KIT
J9
W-9
Yellow
1-1/8"
2-3/8"
2-5/8"
2.5
2.0
0.5
J10-KIT
J10
W-10
Orange
1-1/4"
2-3/8"
2-5/8"
2.5
1.8
0.7
J10-HD-KIT
J10-HD
W-10
Black/White
1-1/4"
2-1/2"
2-5/8"
2.8
2.1
0.7
CAUTION
Only use Muncy's Rolog Buttons with Muncy's Rolog Wedges. Do not substitute other buttons or wedges with any Muncy's Rolog buttons or wedges. Follow application instructions, using wire rope designed for the wedge. Wedge Buttons are recommended for use with EIP, IWRC right regular lay wire ropes. When using wedges, wedge buttons are designed for 6 strand right lay ropes ONLY, unless specially marked otherwise. DO NOT use for overhead lifting.