Dillon Model-Z Load Cell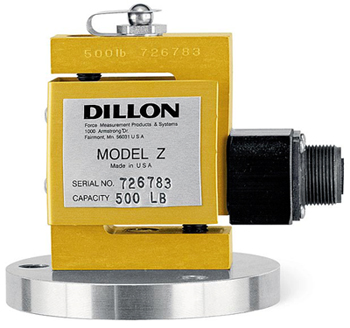 Dillon Model-Z Load Cell
Tension Load Cell
Compression Load Cell
Includes side-mounted 5-Pin connector, overload stops & eye nuts.
Includes side-mounted 5-Pin connector, overload stops compression load fitting & base plate.
Part Number
Capacity
Part Number
Capacity
33565-0115
25LB
33565-0117
25LB
33565-0123
50LB
33565-0125
50LB
33565-0131
100LB
33565-0133
100LB
33565-0149
200LB
33565-0141
200LB
33565-0164
500LB
33565-0166
500LB
33565-0180
1,000LB
33565-0182
1,000LB
The most robust Z-cell style load cells available.
Top-grade material
Built in overload stops
Includes hardware
Tension Z-Cells are suitable for overhead suspended measurement.
Different Styles for Unique Applications
Top performing tension/compression combination cells
Overhead suspended rated cells – designed for strength and safety
Robust compression-only cells
Many Capacities Available
Capacities from 25 – 1,000 lb / 10 – 450 kg
Many stock items
Hardware eases load cell installation
Choices from lifting eyes, eye nuts, threaded stud, compression bases and load buttons
Free calibration with Dillon Indicators
A Dillon load cell and indicator system is ready for measurement, right out of the box. Includes detailed certificate.