Dillon S-Beam Load Cell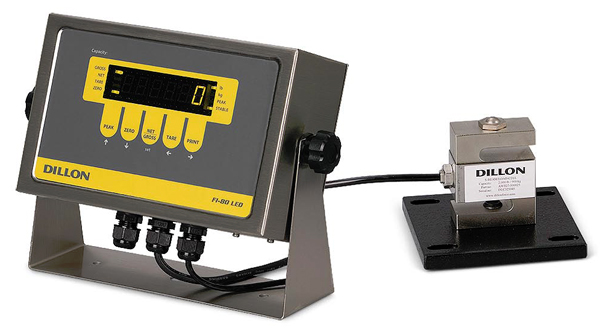 Dillon S-Beam Load Cell
Tinned Lead Termination
7-Pin Connector Termination
Works w/ FI-80, FI-127, OR Summing Box. (20FT CABLE)
Works w/ FI-127 Box. (20FT CABLE)
Part Number
Capacity
Part Number
Capacity
AWT27-500020
50LB/ 22KG
AWT27-500011
50LB/ 22KG
AWT27-500021
100LB/ 45KG
AWT27-500012
100LB/ 45KG
AWT27-500022
200LB/ 90KG
AWT27-500013
200LB/ 90KG
AWT27-500023
500LB/ 220KG
AWT27-500014
500LB/ 220KG
AWT27-500024
1,000LB/ 450KG
AWT27-500015
1,000LB/ 450KG
AWT27-500025
2,000LB/ 900KG
AWT27-500016
2,000LB/ 900KG
AWT27-500026
5,000LB/ 2,200KG
AWT27-500017
5,000LB/ 2,200KG
AWT27-500027
10,000LB/ 4,500KG
AWT27-500018
10,000LB/ 4,500KG
AWT27-500028
20,000LB/ 9,000KG
AWT27-500019
20,000LB/ 9,000KG
For performance and versatility, the Dillon S-Beam load cell is a top choice.
Measures both tension and compression
Alloy steel with nickel plating
Broad assortment of hardware
Field Proven in Thousands of Applications
Different Styles for Unique Applications
Top performing tension/compression combination cells
Overhead suspended rated cells – designed for strength and safety
Robust compression-only cells
Many Capacities Available
Capacities from 25 – 100,000 lb / 10 – 40,000 kg
Many stock items
Hardware eases load cell installation
Choices from lifting eyes, eye nuts, threaded stud, compression bases and load buttons
Free calibration with Dillon Indicators
A Dillon load cell and indicator system is ready for measurement, right out of the box. Includes detailed certificate.