Dillon Quick-Check Tension Meter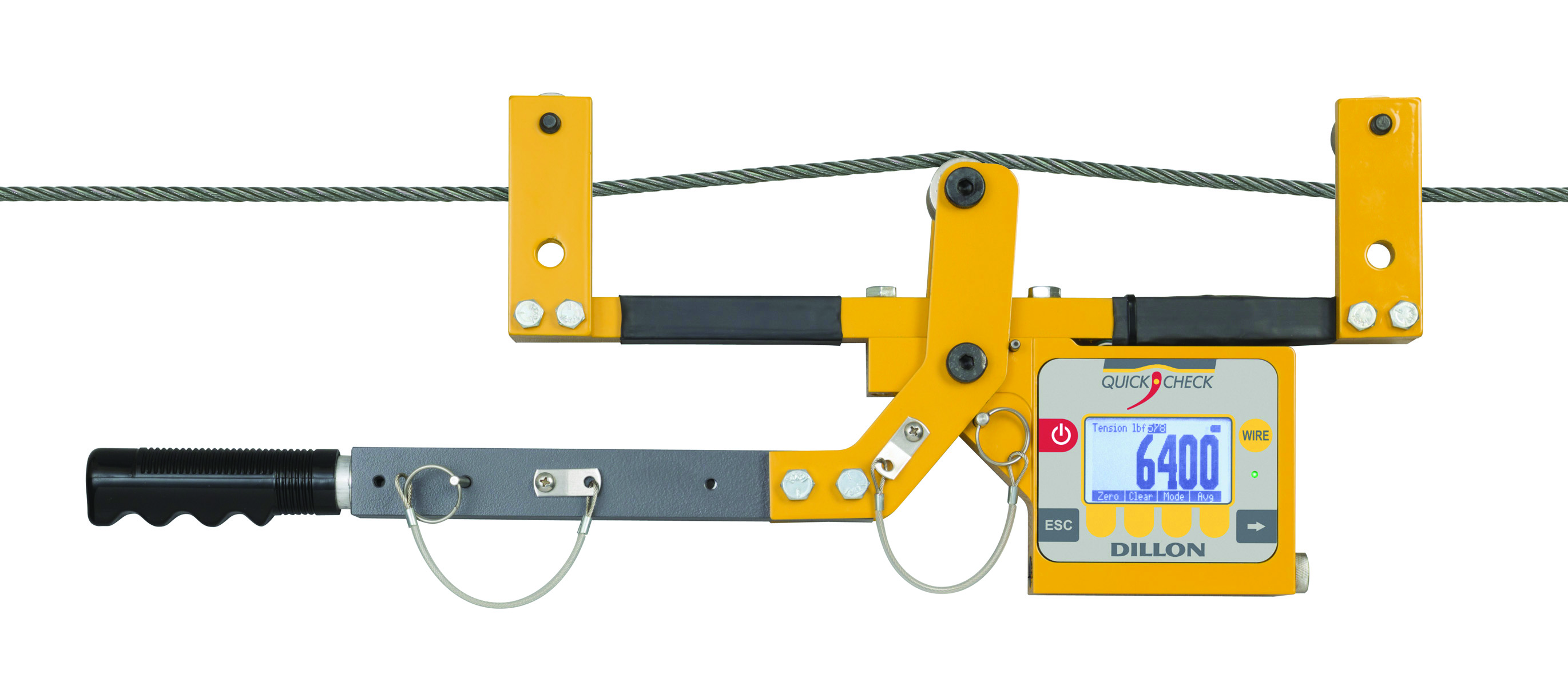 | Capacity & Resolution | P/N |
| --- | --- |
| 2,000 x 2 lbf | 36289-0022 |
| 10,000 x 10 lbf | 36289-0014 |
| Sheave | Wire Diameter | P/N |
| --- | --- | --- |
| L | ANY - 1/4" | 36309-0085 |
| P | ANY - 1/2" | 36309-0044 |
| S | 1/4" - 3/4" | 36309-0010 |
| T | 1/2" - 1" | 36309-0101 |
Features:
Sheaves with bearings eliminate friction and provide the best accuracy
Accommodates a wide range of wire sizes and styles
Telescoping handle engages meter quickly with minimal effort
Highly visible yellow finish Easy-to-read display with full-text prompts
Uses popular AA batteries and has long life between changes
Easy to use soft-key interface
What size sheaves should be purchased?
It makes sense to take advantage of the range for the sheaves. Most customers can make do with one set of sheaves for the entire assortment of wires they tension by installing the sheave set that matches the largest diameter cable being used. If a customer checks tension in both 3/4" and 3/16" rope, then they should order two sheave sets, sheave code "L" & "S". The operator must use the appropriate sheave set for the wire size and calibration stored. Changing sheave sets takes about two minutes with the included wrench.
Wire Rope Calibration Slings On Hand:
Popular Size
Wire Type
Wire Size
Default Load*
1 x 7 EHS
1 x 19 EHS
6 x 19 Fiber Core
6 x 19 lWRC Wire Core
7 x 19 Wire Core
8 x 19 Fiber Core
3/16"
1,000lbf
Y
Y
Y
Y
1/4"
2,000lbf
Y
Y
Y
Y
Y
5/16"
3,000lbf
Y
Y
Y
3/8"
3,500lbf
Y
Y
Y
Y
Y
7/16"
4,000lbf
Y
Y
1/2"
5,000lbf
Y
Y
Y
Y
Y
9/16"
6,000lbf
Y
Y
Y
5/8"
7,000lbf
Y
Y
Y
Y
Y
3/4"
8,000lbf
Y
Y
Y
7/8"
9,000lbf
Y
Y
1"
10,000lbf
Y
Y
*
or maximum capacity of Quick-Check/ whichever is lower.
Electric Conductors
Name
Size
Diameter
Type
Sheathing
Max. Load
Sparrow
2 AWG
0.316
ACSR
No
1710 lbf
Raven
1/0
0.398
ACSR
No
2628 lbf
Penguin
4/0
0.563
ASCR
No
3636 lbf
Chickadee
397.5
0.743
ACSR
No
3636 lbf
Petunia
750
0.997
AAC
No
3636 lbf
Individual Applications
Wire Size
Description
Default Load
1/2"
6 x 26 wire core
5,000 lbf
3/4"
3 x 7 standard safety (unstretched)
6,000 lbf
3/4"
3 x 7 pre-stretched safety
8,000 lbf
5 mm
1 x 7 stainless steel
1,000 lbf
3/16"
solid steel (pre-stressed concrete)
7,000 lbf
Specifications
Tension capacities:
2000 lb/10 kN/1000 kg.
8000 lb/35 kN/3500 kg.
Wire sizes: 3/16 inch through 3/4 inch.
Accuracy: ±3% instrument capacity (calibrated to specific wire size).
Number of calibrations: Up to 15 can be stored independently.
Operating range: -4°F to 140°F (-20°C to 60°C)
Loading error: Cable elongation of only 0.08 inch (2mm)
Display: Dot-graphic LCD display supports full text and 1 inch high digits.
Environment protection: Suitable for continued outdoor use.
Tension units of measure: pound-force, kilogram force, Newtons.
Resolution: configurable low/med/high.
Recalibration: At user discretion. Commonly 24 months but should be more frequently with heavy use. Factory recalibrations conducted typically in 2-4 days. On-site recalibration may be possible through your Dillon distributor.
Size: 10 x 23 x 3 inch (25 x 59 x 8 cm).
Weight: Approx 11 lb (5 kg)