Dillon Force Gauges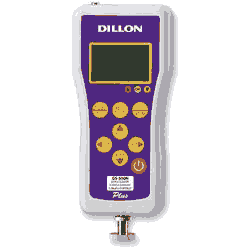 Specifications



Accuracy:
GTX Plus: 0.1% of capacity
GS Plus: 0.2% of capacity
Communication: RS-232 and USB
Functions: GTX Plus also has database, statistics, date/time, pass/fail, reverse display and backlight.
Warranty: Two year parts and labor.
Includes: Hook, plate, extension rod, carry case, batteries, charger, user's manual, calibration certificate
Accessories Available: Universal test stand mounting plate, serial cable, software, quick couplers and adapters, test stands, popular grip assortment.
Operates on rechargeable batteries or from AC.
Large, high-resolution dot graphic display.
Compatible with common test stands and grips.
Accurate in tension and compression.
Limitless uses: Handheld weighing, quality assurance, R&D, ergonomic evaluation, safety compliance, building accessibility, and many more.
Everything needed for common testing.
Other Measurement Devices
GS Plus Model
Model Number
N
kg-f
lb-f
GS005
5 x 0.002
0.5 x 0.0002
1.1 x 0.0005
GS010
10 x 0.005
1 x 0.0005
2.2 x 0.001
GS005
5 x 0.002
0.5 x 0.0002
1.1 x 0.0005
GS025
25 x 0.01
2.5 x 0.001
5.5 x 0.002
GS050
50 x 0.02
5 x 0.002
11 x 0.005
GS500
500 x 0.02
50 x 0.02
110 x 0.05
GS2K5
2550 x 1
250 x 0.1
550 x 0.2
GTX Plus Model
Model Number
N
kg-f
lb-f
GTX025
5 x 0.005
2.5 x 0.0005
5.5 x 0.001
GTX050
50 x 0.01
5 x 0.001
11 x 0.002
GTX100
100 x 0.02
10 x 0.002
22 x 0.005
GTX250
250 x 0.05
25 x 0.005
55 x 0.01
GTX1K0
1000 x 0.2
100 x 0.02
220 x 0.05